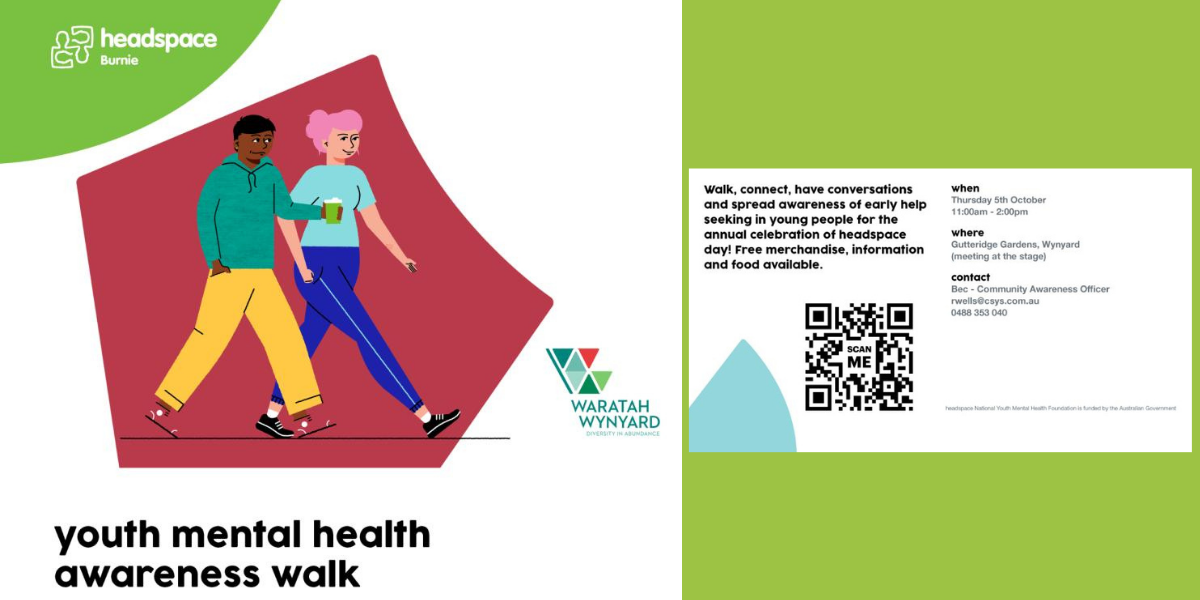 Youth Mental Health Awareness Walk
Join headspace Burnie and walk along Wynyard's foreshore with us for Youth Mental Health Awareness! Walk, connect, have conversations and spread awareness of early help seeking. Free merchandise, information and some light snacks will be available after the walk.
The walk will span for approximately 3kms, starting at the stage at Gutteridge Gardens where we will walk to the old swimming pool along the foreshore before turning around and returning to the stage. The walking track is wheelchair accessible subject to the conclusion of the construction on the walking track. The walk will finish back at the stage where there will be an opportunity for participants to grab a snack, grab some information and merchandise and have a chat. Participants are encouraged to wear appropriate footwear for walking, sun protection and something green to increase visibility.
Headspace Burnie offers free support to young people aged 12 to 25, as well as to their families and friends. We support young people with mental health, alcohol and other drug services, as well as provide work and study support. With a focus on early intervention, we work with young people to provide support at a crucial time in their lives – to help get them back on track and strengthen their ability to manage their mental health in the future. headspace Burnie is operated by their lead agency Cornerstone Youth Services.
headspace day is a national day of support for the mental health and wellbeing of all young Australian people. This event is supported by the Waratah Wynyard Council as part of their Spring Loaded calendar.